Clinical Pharmacology Tutorial
This tutorial consists of four reading sections with a subsequent quiz following each section. Completing the tutorial will take approximately one hour. Some networks require that at least one individual at each clinical research site (CRS) complete and retain certification that this course has been completed in order to conduct trials that involve pharmacology testing. Check with your network(s) to determine if this requirement pertains to your CRS. We encourage all research personnel at clinical trial sites to take advantage of the opportunity to obtain certification and contribute to better quality pharmacology study conduct.
There are two ways to access this course:
If you have a Frontier Science Portal account, you can sign in and click the Clinical Pharmacology Tutorial link.
If you need a Portal account but do not have one, you can request an account
or
If you do not have a Portal account, you can take the tutorial as a guest. Contact us to request guest account login credentials.
Bioanalytical Method Validation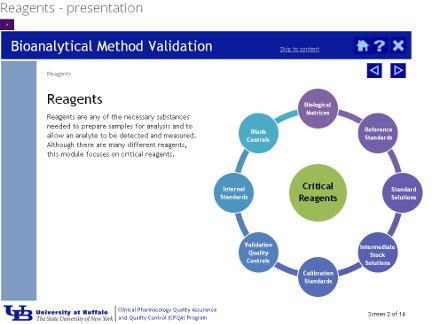 This course provides the learner with information necessary to comprehend, design, perform, analyze, and evaluate bioanalytical method validation. The validation procedures and regulations are applied to chromatographic methods used to quantitate drugs, metabolites, or other small molecules of interest.
Access to this course requires a DAIDS Learning Portal account. If you don't have an account, you can request one.
Other Training
LDMS Training
LDMS is a laboratory application use for storing and submitting pharmacology data. Training for learning to use LDMS is provided by Frontier Science.
Information about LDMS training is on the LDMS website.
Request Training
Are you a DAIDS-affiliated laboratory or site interested in additional learning or training opportunities? Contact us.